Area Attractions
Enjoy the best of both worlds at Beachfront Bed & Breakfast! We are situated oceanfront in the heart of St. Augustine Beach and only 10 minutes to the historic district, making it an ideal location to enjoy all that the St. Augustine area has to offer.
St. Augustine Beach
St Augustine Florida offers activities for everyone and the perfect destination for your next vacation. With over 450 years of rich history and culture, coupled with countless restaurants and attractions, our B&B is a perfect destination to experience history and the beach in a quiet and relaxing setting.
The Beachfront Bed & Breakfast is oceanfront, giving you easy access to miles of pristine beaches where you can enjoy all the romantic fun-in-the-sun that Florida beaches provide. With warm days for much of the year, there's no better way to unwind than walk along the sand and listen to the waves. A short 10-minute drive takes you into the nation's oldest city, with its historic splendor, charming character, and numerous attractions to choose from. Strolling through the narrow brick streets gives you an opportunity to explore the shops, art galleries, restaurants, and historic sites at a relaxing and leisurely pace. Trolley tours are also a wonderful way to learn about the history of the City and to get around. The fully-narrated tour has over 20-stops throughout the historic area, and includes a beach bus that stops near the B&B that makes hourly trips to and from the historic district from 9am-4pm. You can book tickets ahead of time when reserving your room, or when you check in.
Looking to have deluxe beach chairs and an umbrella set up and waiting for you in the sand each morning? This is possible with Barney's Beach Service. Click here for details. Barney's also has a variety of other items, like bicycles, boogie boards, surf boards, and paddle boards.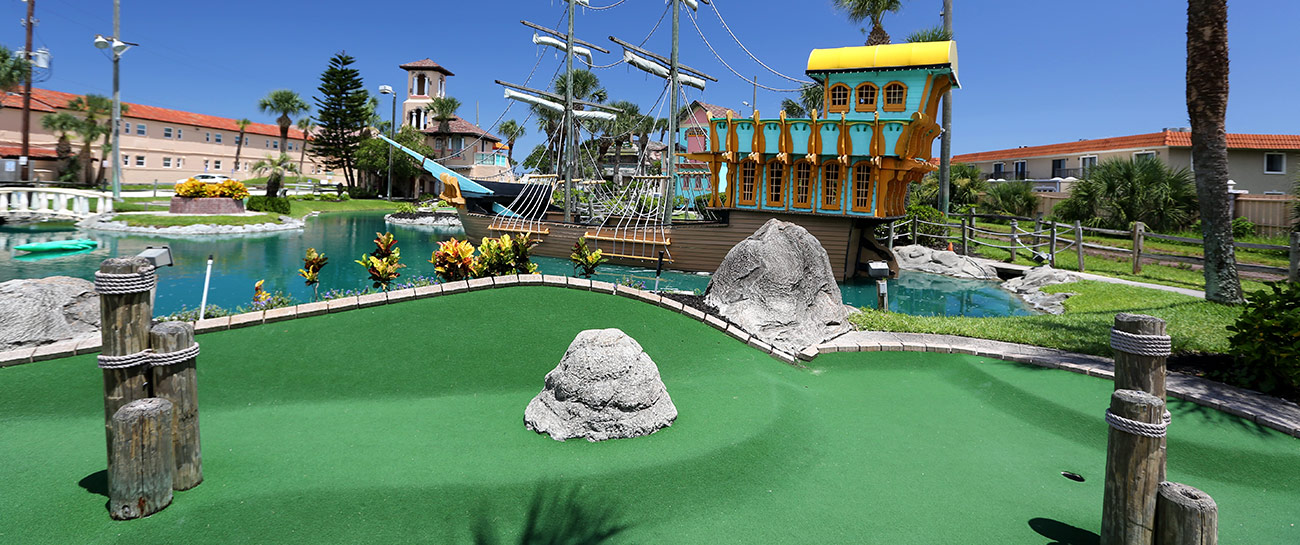 Fiesta Falls Miniature Golf
We have added many features to keep social distancing by using clear protective barriers at the golf check-in and soft serve ice cream window. Miniature golf is great outdoor fun! 
Fiesta Falls, our 18-hole miniature golf is right next to La Fiesta Ocean Inn & Suites. Open to the public and fun for all ages; it's an award winning landscaped course featuring 8 waterfalls, caves, a 65 ft. Spanish ship and a view of the ocean from the mountaintop gazebo. For an extra challenge, play under the stars on the lighted course.  Located next to La Fiesta Ocean Inn & Suites, one mile south of the St. Augustine Beach Pier.
Enjoy delicious soft ice cream, milk shakes and desserts. La Fiesta Guests receive a special discount for youth, adult and senior golf.
Adult golf $14.50
Seniors (62+) $13.50
Youth (3-12) $11.95
Current Hours of Operation*:
Monday: 10AM – 9PM
Tuesday: 10AM – 9PM
Wednesday:  10AM – 9PM
Thursday: 10AM – 9PM
Friday: 10AM – 9:30PM
Saturday: 10AM – 9:30PM
Sunday: 10AM – 9PM
Holiday Hours:
Thanksgiving: regular hours
Christmas Eve:  10AM – 4PM
Christmas Day: Closed
New Years Eve/Day: regular hours
* Closing time is when the last round of golf starts. Opening and closing times are weather dependent and subject to change due to rain, cold, and other circumstances. 
Group rates and bus parking are available for advance bookings. Please call ahead for details.
Birthday parties are fun at Fiesta Falls!  Call for details about our package that includes mini golf and the use of our deck for your birthday party!
Fiesta Falls Miniature Golf, 818 A1A Beach Boulevard, St. Augustine Beach FL 32080
(904) 461-5571
St. Augustine Florida Area Attractions Historic Sites
Ponce de Leon Fountain of Youth
(904) 829-3168 – www.fountainofyouthflorida.com
The Fountain of Youth Archeological Park is a 15-acre, Historical attraction in St. Augustine, Florida. Open daily from 9 a.m. to 5 p.m. Over the last 100 years, thousands of guests have visited in order to sip the world-famous waters and hear the history behind its legendary benefits. Of course, while you're here, you may also visit our Discovery Globe, Navigator's Planetarium, Indian Burial Grounds, and Shipwreck Exhibit.
Castillo de San Marcos
(904) 829-6507 – www.nps.gov/casa
Castillo de San Marcos is the oldest masonry fort in the country and there's no doubt that it is the most impressive of all the historical landmarks in St. Augustine. Thousands of visitors flock here to see this unique structure and learn about its colorful history.
Tours
Old Town Trolley Tours
(800) 213-2474
Old Town Trolley shares the history, attractions and sights of America's oldest city. The one hour fully narrated tour features 23 stops and over 100 points of interest.
Black Raven Pirate Ship
(904) 826-0000 – www.blackravenadventures.com
Black Raven is a 127 passenger pirate ship built as a Spanish Galleon and designed for entertainment. Come onboard the ship and see a live pirate show, sing along with pirates, hear true pirate stories, and participate in the games and skits. You're sure to have a good time matey!
St. John's County Fishing Pier
(904) 461-0119 – 350 Beach Blvd.
St. Johns County Ocean Pier is a 4 acre beachfront park with a variety of amenities including: free parking, playground, picnic tables, tackle shop, restrooms, pavilion, and volleyball courts. Open daily from 6 a.m. to 10 p.m
St. Augustine Alligator Farm
(904) 824-3337 – www.alligatorfarm.us
The St. Augustine Alligator Farm is one of Florida's oldest zoological attractions. Bring your family and friends to see some of the largest alligators and crocodiles in the world, along with a rare albino alligator. This experience will definitely give you something to talk about.
Marineland
(877) 933-3402 – www.marineland.net
Marineland is the world's first oceanarium and is ideal for creating lasting memories, especially at the Dolphin Conservation Center. Choose from a variety of interactive programs, including observing dolphins up-close and gliding into the dolphin's aquatic world from a sloping beach to swim with these amazing animals.
St. Augustine Amphitheatre
(904) 471-1965 – www.staugamphitheatre.com
The St. Augustine Amphitheatre is the area's newest arts and recreation facility. It is located on 16 acres of coastal land between Highway A1A and Anastasia State Park. The state of the art design provides visitors with a unique venue for the arts.
PIT Surf Shop
(904) 471-4700 – www.pitsurfshop.com
Located one block from the beach, PIT Surf Shop is the easiest place in St. Augustine to rent surfboards, body boards, and chairs for the beach.
St. Augustine Amphitheatre
The St. Augustine Amphitheatre is the area's newest arts and recreation facility. It is located three miles from Beachfront Bed & Breakfast, on 16 acres of coastal land between Highway A1A and Anastasia State Park. St. Augustine Amphitheatre seats 2,500 attendees under a fiberglass tensile canopy and can accommodate up to 2,000 people in the grandstand and lawn area. The state of the art design provides a unique venue for the arts.
Visit their website to see a full schedule for upcoming shows.
1340 A1A South
St. Augustine, FL 32080
(904) 471-1965
www.staugamphitheatre.com
St. Augustine Events Calendar