Bed & Breakfast Amenities and Services
Beachfront Bed & Breakfast offers a variety of amenities to make you feel comfortable, including:
Gourmet breakfast in the Beach House dining room

Outdoor heated pool and 8-person Jacuzzi

Included on-site parking

Secure high-speed wireless internet access

Garden hammock and outdoor seating areas

Beach towels, chairs, & umbrellas

Full access to the YMCA Athletic Club

Bus service to historic downtown St. Augustine (with purchase of Old Town Trolley ticket)

Easy access to Fiesta Falls Miniature Golf
Ocean, dune, garden and pool views available

Private bathrooms with tub and shower or walk-in shower

Spacious sitting areas and electric fireplaces available

Private exterior entrances for most rooms

High Definition Satellite TV with Three HBOs

Luxury bed linens and fluffy robes

Proterra bath amenities

Mini-fridge and coffee maker

Microwaves in most rooms

In-room telephones

Hairdryer, clock radio, iron and ironing board
Age Requirement: We want to create a relaxing and quiet getaway for our guests and therefore have a minimum age requirement of 25 years of age at Beachfront Bed & Breakfast, no children.
Check-in location: is at our adjacent sister property 1/2 block away at La Fiesta Ocean Inn & Suites, located at 810 A1A Beach Boulevard. If your plans have you checking in later than 9 pm please let us know in advance so we can make those arrangements.
Resort Fee: $25.97 per night
Rates: Rates are subject to change, and are based on double occupancy. A two or three night minimum may be required on weekends, holidays or special events.
Taxes: Sales and bed tax total 11.5% per night.
Pets: Our B&B is a pet-free property. Several good kennels are nearby to board pets.
Smoking: Smoking is not permitted in guest rooms. We have designated areas outside.
Parking: One parking space is reserved for each guest room.
Guests of guests: Because we want to maintain a quiet and relaxing atmosphere, guests are not permitted to have guests visiting on the property.
Deposit Policy for Beachfront Bed & Breakfast: First night is charged at the time of booking*. Six days prior to arrival, the remaining balance is charged to the credit card in file. Credit cards may be authorized at check in to guarantee any incidental charges. *'Advance Purchase' reservations are charged in full at the time of booking and are non-refundable.
Cancellation Policy: We are a B & B with 8 uniquely named and appointed rooms in different locations on the property. When we receive your reservation we turn away others for that room and for those dates and for that reason you have 7 days prior to arrival to cancel your reservation, change dates or length of stay. Changes made six days or less prior to arrival will forfeit your entire payment*, which becomes non-refundable six(6) days prior to arrival. *'Advance Purchase' reservations are charged in full at the time of booking and are non-refundable.
Payment Methods: A valid credit card is required to reserve the room, and also at check-in. We will charge your credit card for the total amount of your stay prior to your occupying your room/suite. If you prefer to pay cash you can do so at check-out and we will refund your credit card keeping in mind that a refund may take 3-14 days to appear in your account depending upon your bank. Re-loadable cards, pre-paid cards, and gift cards are not accepted.
Check-in Time: Check-in time is at 3pm, and check out time is at 11am
Local calls: Local calls are included.
The oceanfront property that the Beachfront Bed & Breakfast rests on today was developed in 1927 by an attorney and his wife who enjoyed vacationing in St. Augustine Beach. The acreage stretched from the Atlantic Ocean to Florida's famous State Highway A1A and was comprised of the main home, cottage, greenhouse and a horse stable.
The home was built on a foundation of coquina, a Spanish sedimentary rock, which is well known for its durability and strength. The exterior made of cypress timber and placed on a diagonal, makes the home very strong which is great for its oceanfront location. A sea wall that is located 40 feet East of the main house and natural sand dunes add protection from the occasional coastal storms.
When the attorney passed away the property was sold to a local St. Augustine family. The Geberts owned the home for many years, leaving behind a few family reminiscences which include pencil marks on the kitchen wall that show the varying heights of the children as they got older.
During the 1980's and early 1990's the cottage and first floor of the home were rental units known as "Sandy Land." The Gebert's sold the estate in 1998, which is when it was transformed into a bed & breakfast.
The current owners, Lauren Ringhaver & Rich O'Brien met in 2001 at our sister property, La Fiesta Inn & Suites and were married in 2003. They purchased the B & B in 2005 and are also owners of the adjacent sister property. Lauren grew up in the Chicago suburbs and has been visiting St. Augustine Beach since she was a child. Lauren has a background in sales and hospitality, and has been an active leader in an effort to replenish St. Augustine Beach with protective sand fencing. Rich O'Brien lived in New England and Indiana prior to moving to Florida in the mid 1980's and he has spent most of his adult life in the hospitality business. Both Lauren and Rich enjoy gardening and exploring new destinations together, making the ownership of these two beautiful properties a perfect fit!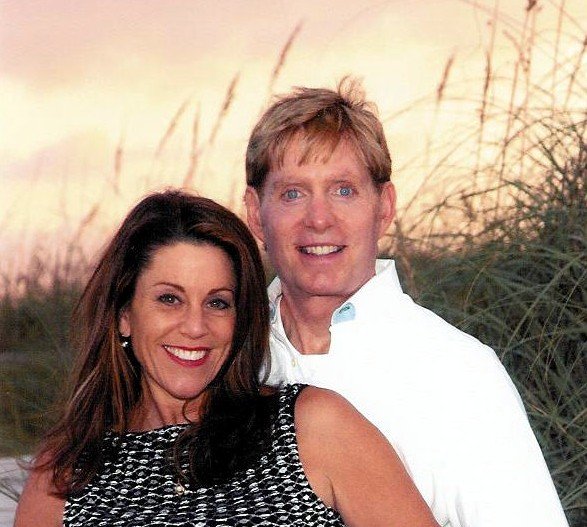 Community Involvement
B&B owners, Rich & Lauren are active members of the following local organizations:
St. Johns County Chamber of Commerce
St. Augustine Attractions Association
Visit Florida
St. Johns County Visitors & Convention Bureau
St. Augustine Beach Civic Association
Flagler College Presidents Council
Northeast Florida Community Hospice
Council on Aging
Public Service
Rich has been on the St. Augustine Beach City Commission for many years, and served as Mayor in 2008, 2011, and 2017. Rich also serves on the St. Johns County Visitors and Convention Bureau and the St. Johns County Tourist Development Council. Rich & Lauren are members of the Flagler College, Presidents Council.
Lauren has a rich history in property management and sales. She is a volunteer with our local Hospice for many years and serves on the advisory board of Opportunity International. Lauren has done numerous mission trips throughout the world with her church Willow Creek Community Church, Barrington, IL.